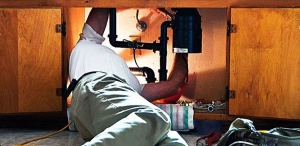 The Plumbers You Can Count On in Winston Salem, NC
Piedmont Plumbing Repair has been reliable in Winston Salem for many years and can resolve all your residential and commercial plumbing necessities. Servicing the Winston Salem region including Kernersville and Clemmons, we can watch out for everything from water line replacement to unclogging drains with the experience and effectiveness you need. We work quickly to deliver unwavering results, every time. So whether you're facing an emergency, fighting a small repair task or constructing a new home, we are the plumbers to call in the Forsyth County area. For more information or to schedule an appointment, please give us a call.
Are you currently discovering it's difficult to deal with the never-ending issues coming up with your plumbing system? Almost every household and commercial business experiences this problem. All you need is a full service plumbing company that provides you with peace of mind by having the skills and experience to fix all your plumbing issues at an affordable price.
Do not hesitate to call Piedmont Plumbing Repair! Had a potentially major issue that was resolved quickly with a minimum of mess…and no price gouging. The technician was on time, knowledgeable and pleasant.
Totally happy with their work. They went above and beyond, fixed my issue, and explained how to prevent it from happening again. The price was excellent. I will definitely call the next time I have an issue.
Professional, personable, and (best of all) fast from the word "go." Many thanks for saving us from another $1500 water bill! We won't hesitate to call him the next time we need anything plumbing-related
There are several plumbing companies that are so huge that it is almost impossible to reach the owner or a licensed plumber. And other companies can be so tiny that the owner cannot be reached. At Piedmont Plumbing Repair our mission is to speak with any customer that would like to discuss their issue.
Searching to find which local plumber near me is the absolute best in quality and efficient?
Our Main Mission: Customer Service
When you want plumbers to deliver critical help – trust the staff at Piedmont Plumbing Repair. Whatever the issue may be, such as sewer repair, faucet repair, or some other connected problem that's being a pain in your life, our plumbing experts are here to help!
Reasonable Prices for You
Piedmont Plumbing Repair services several surrounding areas near Winston Salem, including Kernersville and Clemmons. Our prices are set to enable you and your family the greatest for plumbing repairs.