Water Heater Installation and Repair in Winston Salem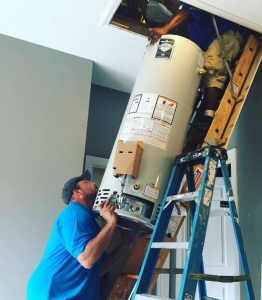 Looking for water heater installation and repair? If your water heater is leaking or isn't heating your water efficiently, call now.
Why Do I Need Water Heater Repair?
The typical issue that affects water heaters is sediment accumulation, especially as water heaters get older and older. As your water gets heated in the water heater, limescale and many other minerals, such as magnesium and calcium, build up inside around the tank plus the burner. If these aren't filtered out, they produce a sediment layer that will rest on the burner and critically affect your water heater's performance. The greatest way to keep your water heater safe is to call Piedmont Plumbing Repair for water filtration and/or water heater inspection!
Additionally, you should inspect your water heater's burner periodically. The flame needs to be blue with yellow tips. If it looks more yellow to orange, this is a hint of partial burning which tends to lead to not only low water heater performance, but the generation of fatal carbon monoxide as well! Do not put your family at any unneeded risk – if your water heater isn't burning well, call Piedmont Plumbing Repair for water heater repair right away!
When Should I Replace My Water Heater?
A good many hot water heaters will survive around 8 to 12 years. When they get to be this old, they begin to drop in their performance and become more likely to fail. However, while most folks wait until their water heater has tragically failed before looking around for a replacement water heater, there are advantages to upgrading your unit before it dies!
Water heaters are amid the leading energy consumers in your home, in several cases the cause for as high as 25 percent of your home's energy consumption. As they age and decrease in performance, this number increases even higher, and the units become more expensive to operate.
Do not wait until its too late and your hot water heater breaks down or becomes inefficient before you think about a replacement. Several options are available today that will not just continue to keep your home functioning comfortably but also save you money in the long run.